Regular price
Sale price
$55.00 USD
Unit price
per
Sale
Sold out
In stock
BREASTFEEDING T-SHIRT
Our white nursing t-shirt has short sleeves and is printed " LIBERTIT " in navy blue and purple.
"Libertit" is a contraction of the words "Liberty" (freedom) and "Tit" (breast) and its design represents the status of freedom breastfeeding her baby.
Features :
Semi-fit slim cut for a perfect feminine fit
Low-cut V-neck
Long YKK brand zips positioned close to the breast
Exterior cover strip to hide the zip
Interior cover strip to protect the skin from the zip
Wide openings to adapt to all body shapes
Soft and breathable jersey 100% certified organic cotton 🌱
A premium quality t-shirt, developed in France , made in Portugal.
*Estelle (1m69 - 69kg) wears the nursing t-shirt in size L.
Material & Manufacturing

Soft and breathable jersey 100% certified organic cotton 🌱
Long YKK branded zips on each side of the chest

A premium quality t-shirt, developed in France , made in Portugal.
Shipping and return policy

Your orders are shipped within 24 hours on average (working days).

Delivery is made according to your choice of delivery method.

Returns for exchange or refund are possible by post within 14 days.

All terms and conditions are detailed on the following link:
Dimensions

Available in sizes S to XXL.

Are you hesitating between two sizes? Consult our guide
Maintenance tips

To care for your LIMKY nursing garment, we recommend:

Machine wash at 30° inside out, zips closed.

A gentle spin.

Do not tumble dry.

Gentle ironing on the back of your garment. 
Share
View full details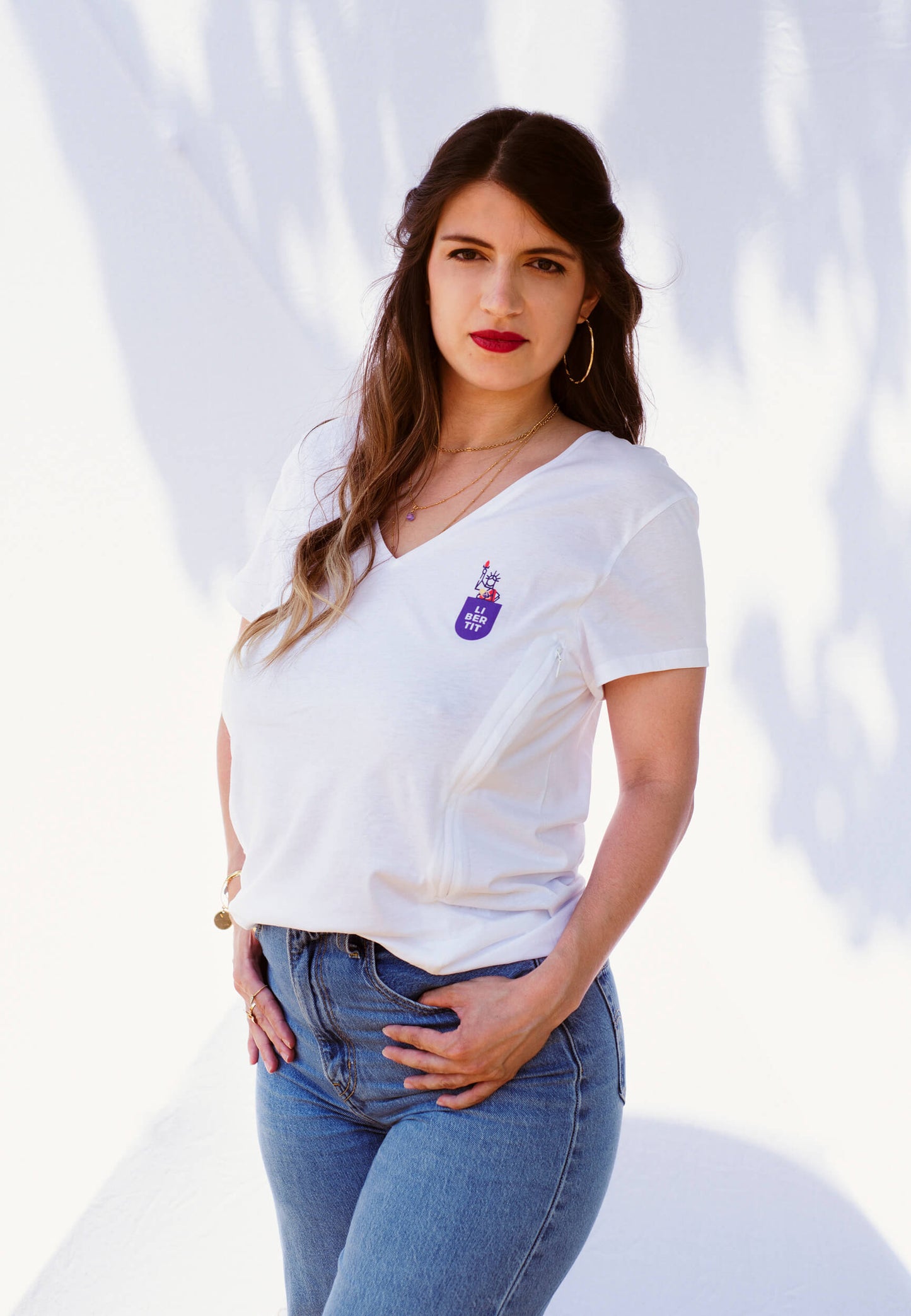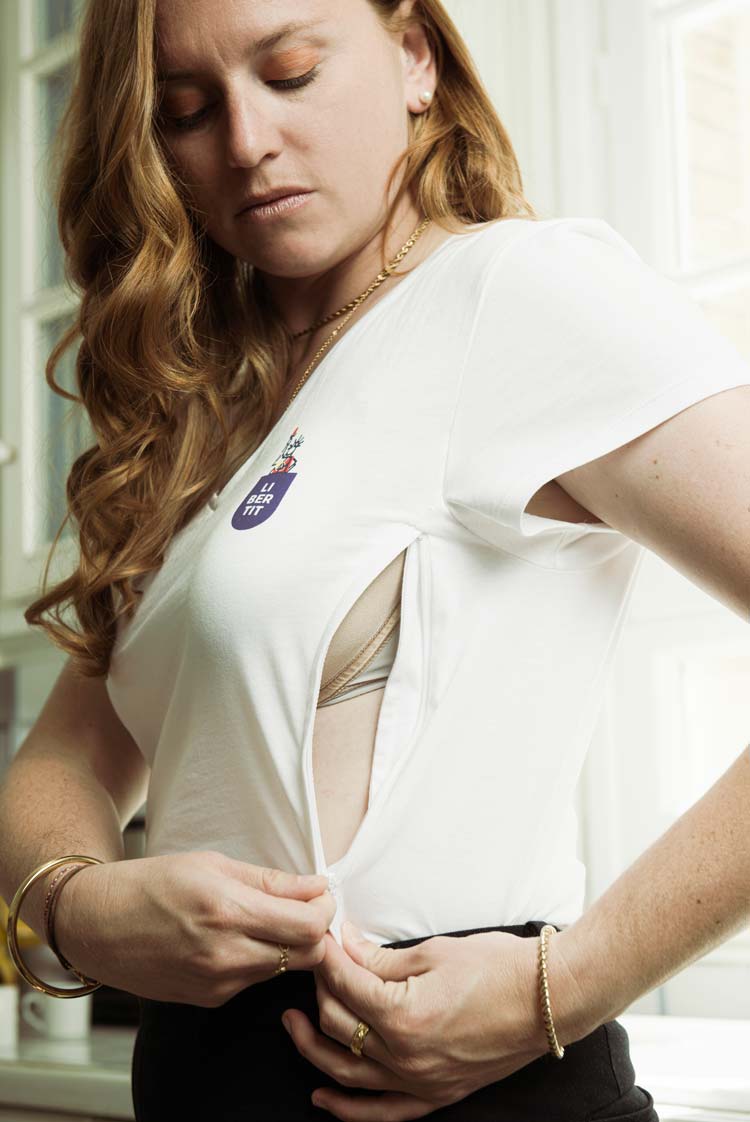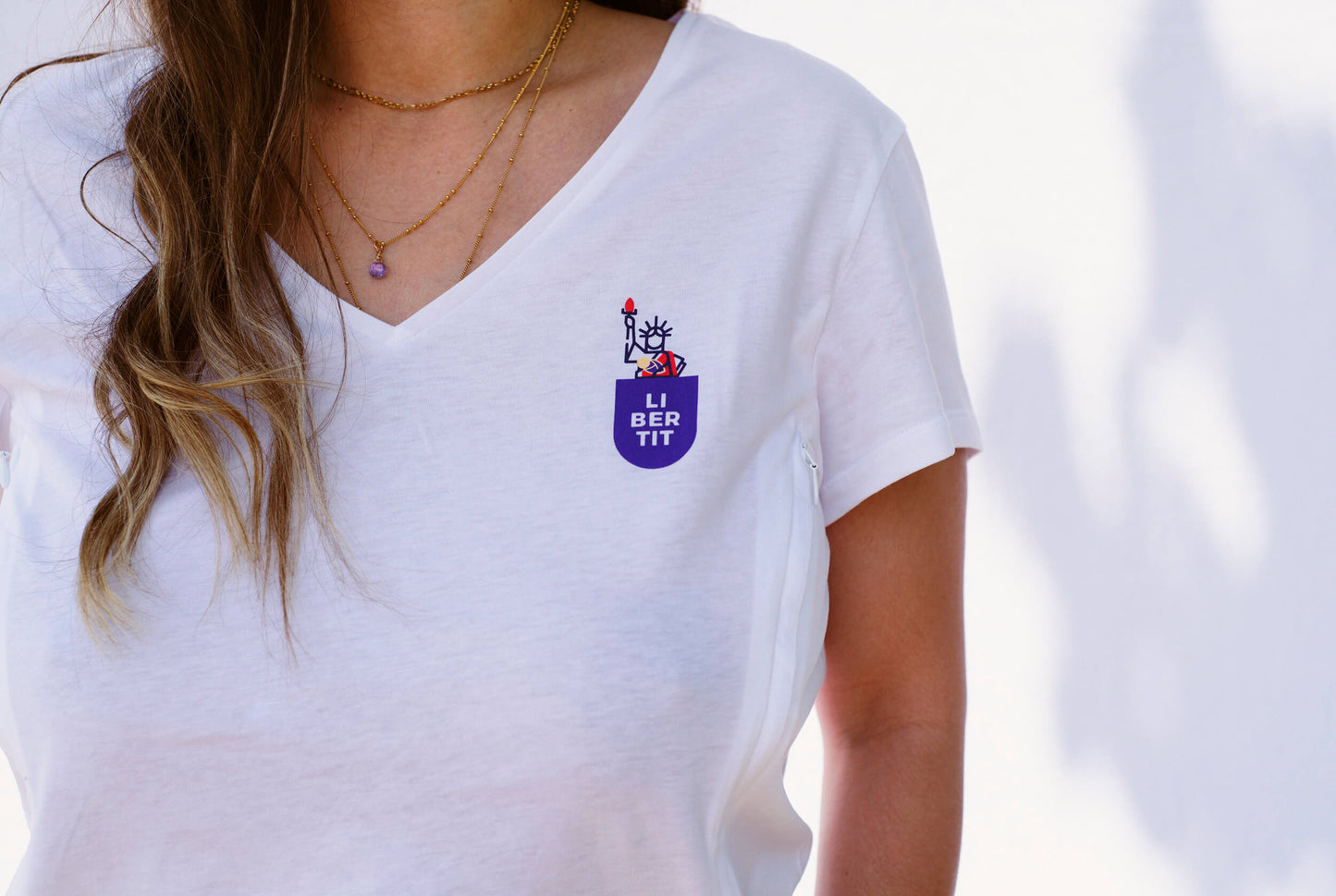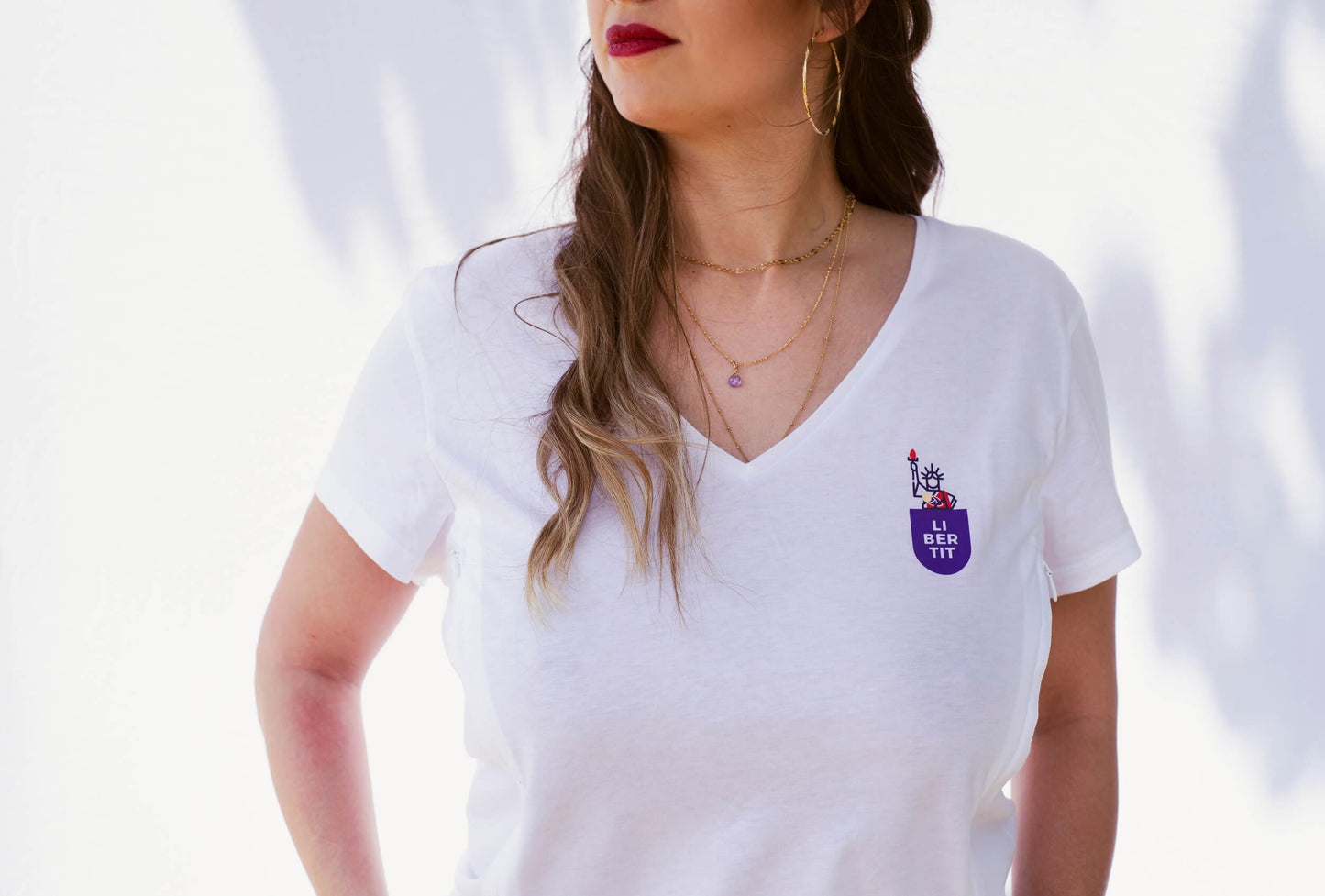 Customers' opinion
"Super pleasant"

"It's hot, super pleasant and comfortable!
THANKS."

Emily

"Wow"

"Oulalalaa top quality and great fit, thank you also for thinking of a light fabric for these postpartum mums whose crazy hormones give them hot flashes. And super easy zip to go down which is not always the case! So happy "

Camille

"My favorite nursing t-shirt"

"I fell in love and I did well. It is super well cut, the nursing zips well placed and in addition incredibly soft and the little design in the heart is just right"

Julie
Nursing T-shirts | Comfort and Style for Nursing Moms | Limky.com
Welcome to Limky.fr, your destination for quality nursing t-shirts that combine comfort, practicality and style. We understand the importance of you feeling comfortable while breastfeeding, while still wanting to stay stylish and on-trend. Discover our collection of breastfeeding t-shirts, including unique designs such as "Mother Stories", "HollyBoob", "Alerte à Maliboob", "Mon Cœur Fait Boob", "Libertit" and "In Boob We Trust".
T-shirts designed to facilitate discreet breastfeeding
Our nursing t-shirts are specially designed to make breastfeeding easier and more convenient than ever. Each model in our collection offers clever features that allow you to feed your baby discreetly, wherever you are. With convenient concealed openings, you can breastfeed easily and comfortably without compromising your privacy. Our t-shirts are designed to give you a practical and stylish solution during this special time in your life as a mom.
Our t-shirts specially designed for breastfeeding are made to allow you easy, quick and practical access to the breast, even with one hand (a real asset when baby is in your arms).
Breastfeeding access is through side openings with low-profile, reinforced YKK zips that are concealed under an outer coverage strip on each side.
Your nursing top also has an organic cotton interior coverage band on each side for even more discretion and better protection of your skin from the zip.
👉 Our reinforced zips are positioned close to the breast (and not under the armpit) : No more pulling and damaging your fabric to access your chest, no more using both hands to open the invisible zip, and no more positioning the zip too far under the armpit and curling on the sides when you tuck your top into the jeans ❤️
The seams of your nursing top are reinforced seams so they do not move or wear your garment breastfeeding during repeated zip openings to breastfeed .
Built to last, our practical and eco-responsible breastfeeding clothes accompany you throughout your breastfeeding and even afterwards thanks to its feminine cut and discreet zips!
Comfort and quality for active moms
At Limky.fr, we understand that active moms need clothes that allow them to fully enjoy their daily lives while taking care of their baby. Our nursing t-shirts are made from high quality soft and stretchy fabrics, providing optimal comfort for you and your child. The snug fit and thoughtful design of our t-shirts ensure maximum freedom of movement, allowing you to go about your business while feeding your baby with ease.
A breastfeeding collection designed in France, made in Portugal, in responsible and organic materials and in conditions that meet Gots and Oeko Tex criteria.
Unique style and expression of your personality
Our nursing t-shirts aren't just practical, they're also a way to express your personal style and personality. Each model in our collection is unique and brings a touch of style to your outfit. Whether you choose the casual and fun look of "Alerte à Maliboob" or the rebellious spirit of "Libertit", our t-shirts allow you to stay trendy and confident while breastfeeding.
Our nursing clothes are designed and made to offer you semi-fit cuts. Neither tight nor loose, our clothes are perfect for giving you a trendy feminine look.
Opinions of satisfied mums
Our clients are our best reference. Check out the positive reviews from our happy moms to learn more about their experience with our nursing t-shirts. They underline the comfort, practicality and style of our products, confirming our commitment to providing high quality nursing clothes that meet the needs of modern mothers.
Discover our collection of nursing t-shirts now
Look no further, the ideal solution to combine comfort, practicality and style while breastfeeding can be found in our collection of nursing t-shirts. Go to Limky.fr, explore our full range and choose the models that match your style and personality. Take advantage of the practicality and comfort of our unique nursing t-shirts to fully enjoy this magical experience with your baby.